3 May, 2013: 18-year-old British racer Harrison Scott was testing at Silverstone in preparation for the third round of the Dunlop MSA Formula Ford Championship of Great
Britain at Thruxton this week. But this was no ordinary track day. Harrison was testing a 1961 Cooper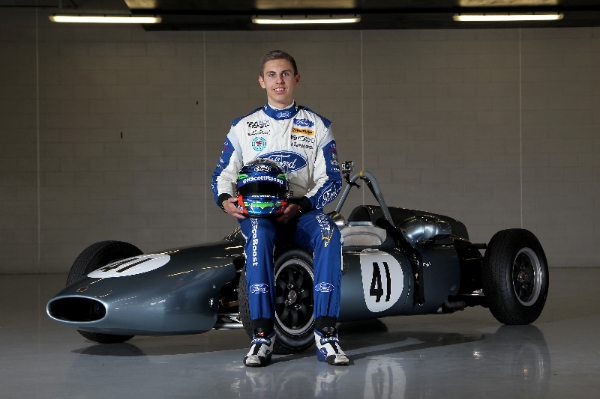 T56 Formula Junior car at this year's Silverstone Classic Media Day (30 April) – the preview to the award-winning event on 25-27 July.
While discussions rage on about the sound of current F1 cars, there was no doubt that the decibels produced from the cacophony of engine sounds resounding around the garages in The Wing at the "Home of British Motorsport" would reach fever pitch. A plethora of racing cars from iconic eras took to the track on Wednesday, with Essex-based Harrison in the enviable position of taking the Cooper T56 out for several fast laps during both open wheel test sessions in the afternoon.
"The car is completely different to the Ford Ecoboost Mygale I am driving this year," Harrison said. "The Cooper has a 1100cc engine, five-speed manual gearbox and drum brakes, so when I first went out I just familiarized myself with it, trying to heel and toe and get the correct down shifts because it is vital that you do not over-rev these older cars. After a while I was getting very comfortable with the handling before I pushed a little harder."
Opportunities to drive a historic racing car do not come around every day, something reigning Scholarship Class Champion Harrison, who is currently second overall in the 2014 Formula Ford championship, does not take for granted. "It is a great experience to be out in such an old school car. Any opportunities like this are to be grabbed with both hands and I am thrilled that Peter put his trust in me and allowed me to drive even more laps this year."
Peter Fenichel has owned and raced the Cooper T56 in class C2 since 2011. He has competed in a variety of cars for 25 years and is assisting Harrison in his career. In the morning at Silverstone Peter went five seconds faster than his previous best, however Harrison took to the asphalt in the afternoon and knocked a further ten seconds off this time!
"The Cooper hasn't got any aero and has treaded tyres, so it moves around a lot," added Harrison. "But because I am used to the power of the Ford, I was able to apply what I have learned to the T56 and if it was moving around, especially out of the corners, I felt confident enough to be able to catch it."
There was a fantastic turnout at the annual Media Day when the full Silverstone Classic programme for the annual meeting in July was announced. It was also revealed that there would be a world record parade of GP cars led by Sir Stirling Moss OBE.
"The Silverstone Classic event is amazing and even here, at the preview day, you can look around and see just how much each type of car has evolved," Harrison concluded. "It is such good experience for me to drive as many types of racing cars as possible; it's an education and I very much hope to be able to take part in the Classic itself one day, once I am an F1 driver, of course!"
Harrison drives for Falcon Motorsport in the 2014 Formula Ford Championship, a support series to the highly popular British Touring Car Championship, on the TOCA calendar. The third round takes place this weekend at Thruxton Circuit, Hampshire, 3-4 May.
Please follow and like us: