THRUXTON, 9 April, 2014 – Falcon Motorsport driver Harrison Scott led the way in testing today at Thruxton, the fastest circuit on the Dunlop MSA Formula Ford Championship calendar, topping the timesheets in both of the day's sessions. But Scott was run very close indeed, with Sam Brabham just four-thousandths slower for JTR and his team-mate Max Marshall a further tenth off.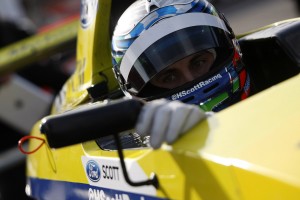 Scott, who holds second in the championship standings to South African Jayde Kruger after the Brands Hatch rounds, was in strong form from the outset, quickly setting a best lap of 1m 12.730s to lead the morning session. Unfortunately for his rivals, they were denied the chance to better Scott's time by a serious crash which befell Jamun racer Jack Barlow.
The afternoon session was completed without interruption and Harrison was able to find a further second to set a best lap of the day of 1m 11.795s, half a second inside Dan Cammish's 2013 pole time. Brabham and Marshall were quick to respond for JTR, and were the only other drivers to better 72 seconds around the 2.36-mile circuit.
"I had a really good final session," said Harrison. "I went on to new tyres straight away but had a few things to do first, like bedding in some brakes, and was then able to do a time which I was really happy with. There's still more time to find, but overall I'm pleased and it's a good confidence boost for next week at Donington Park."
There will be more Formula Ford testing action next Thursday (17 Apr) at Donington Park, ahead of the Easter weekend's races at the Leicestershire circuit.
Thruxton testing times 09/04/13  (am/pm)
1  Harrison SCOTT/GBR (Althorne) Falcon Mygale 1:12.730 / 1:11.795
2  Sam BRABHAM/GBR (Banbury) JTR Mygale 1:12.932 / 1:11.799
3  Max MARSHALL/GBR (North Kilworth) JTR Mygale 1:29.342 / 1:11.914
4  Juan ROSSO/ARG Radical Mygale 1:12.894 / 1:12.325
5  James ABBOTT/GBR (Thurlby) Radical Mygale 1:13.856 / 1:12.410
6  Jayde KRUGER/RSA JTR Mygale 1:13.334 / 1:12.470
7  *Ricky COLLARD/GBR (Eversley) Falcon Mygale 1:16.737 / 1:12.747
8  *Chris MEALIN/GBR (Braddan, IOM) Falcon Mygale 1:16.632 / 1:13.659
9  *Connor MILLS/GBR (Upminster) Meridian Mygale 1:14.935 / 1:13.782
10 Jack BARLOW/GBR (Hastings) Jamun Mygale 1:14.609 / no time etc
*Scholarship class
Pre-event testing takes place at Donington next Thursday, with qualifying and the first race of the weekend on Saturday. There will be a double helping of Formula Ford action on Easter Sunday, with live coverage on ITV4 between the British Touring Car Championship races.
Donington Park information
Thu 17 Apr Testing 1030 & 1500
Sat 19 Apr Qualifying 1200, Round 4 1625
Sun 20 Apr Round 5 1045, Round 6 1627
TV ITV4 live between 1030 & 1830
Donington National lap records
Race 1m 06.151s / 107.70mph, Dan Cammish, Mygale
Qualifying 1m 05.491s / 108.78mph. Dan Cammish, Mygale
Please follow and like us: