Following a victorious clean-sweep in the first two races of Euroformula Open in Estoril two weeks ago, British racing driver Harrison Scott has signed to compete in the full 2017 season with 'RP Motorsport', the Italian racing outift run by Fabio Pampado and Niki Rocca.
21-year-old Harrison, from Althorne in Essex, holds a host of racing accolades to his name. The BRDC 'Rising Star' programme member clinched the 2013 Dunlop MSA British Formula Ford of Great Britain Scholarship Class title with Falcon Motorsport and went on to conclude the 2014 season as runner-up in the Drivers' Championship with an impressive tally of 23 trophies.
In 2015 Harrison took to the cockpit of the #27 AV Formula (AVF) by Adrián Vallés FR2.0/13 Tatuus charger to win the Eurocup Formula Renault 2.0 championship Rookie Cup. He returned with the Spanish squad to challenge for the overall title in 2016, taking the fight to the wire at the end of a highly competitive season.
Kicking off 2017 in style Harrison dominated proceedings at the first Euroformula Open event. Behind the wheel of the #10 'RP Motorsport' Dallara F312 he secured a record-breaking maiden series pole position in race one qualifying and drove a pair of faultless rounds to victory at the Circuito de Estoril, Portugal, 29-30 April. The Euroformula Open continues at Spa-Francorchamps, Belgium on 27/28 May.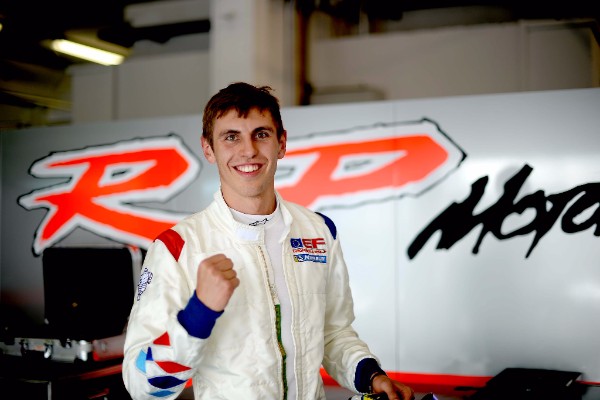 Harrison Scott, #10 RP Motorsport:
"Having experienced the Euroformula Open championship last year when I competed in a one-off race at Jerez, it soon became high on my list of priorities to compete in the series this year. I immediately felt comfortable in the F3 car, so I'm extremely happy to be able to confirm a full-time race seat with RP Motorsport for this season. I would like to thank Fabio and Niki for giving me the opportunity to compete with their experienced team, my family and VCM Motorsport for its continued support. I shall be proud to fly the flag as the only British driver on the Euroformula Open grid and after the first event my goals remain the same – to maintain momentum and, together with RP Motorsport, bring home some fantastic results."
Niki Rocca, RP Motorsport:
"We are very happy to have a good guy like Harrison join our team. In addition to being a talented driver, he is intelligent and you need this to create that extra special something. We watched Harrison's racing last year in Eurocup with interest and so when he tested with us for the first time in the winter series we knew he would be a very good driver. What we expected we received – Harrison is totally motivated and dedicated to the job, following the data and videos to see where we can improve and it is very nice to work with such an overall package in a driver as from this rapport comes the 'magic'.
"We are very happy to have him in the RP Motorsport team and from what we have seen, in the winter and in the first round of Euroformula Open in Estoril, we think we shall have some very positive results this season."
Please follow and like us: