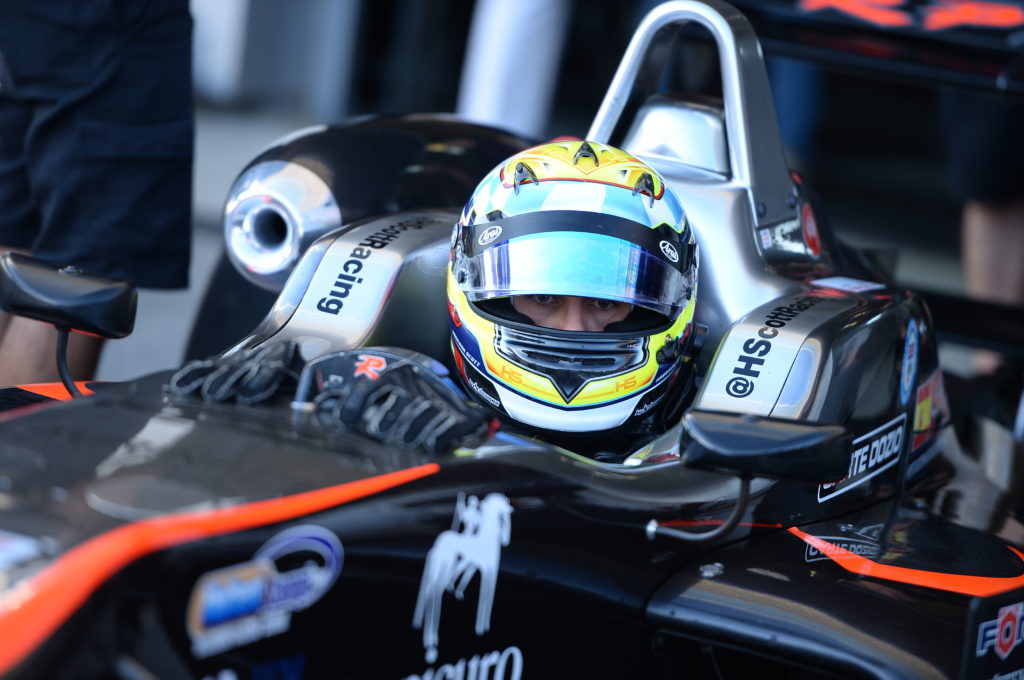 21-year-old Harrison Scott has been named as one of the four outstanding 2017 McLaren Autosport BRDC Award finalists in the same week that he was crowned 2017 Euroformula Open Champion at the series seventh event in Monza.
Harrison flew to join his RP Motorsport team in Jerez, Spain, on Thursday and completed the double-double once again with two pole positions and a pair of runaway race wins in the penultimate round of the 2017 EuroFormula Open championship.
The BRDC Rising Star programme member, from Althorne in Essex, put on another faultless driving display at the Circuito de Jerez to bring is current tally of EF Open qualifying poles to 11 and race victories to 12. His sheer determination, focus and dominance in the European single-seater F3 series has once again brought him to the attention of the McLaren Autosport BRDC Award fans and judges, who have nominated Harrison to become a 2017 finalist, his second such prestigious recognition since 2014.
Harrison joins BRDC Formula 3 champion Enaam Ahmed, Formula Renault race winners Max Fewtrell and Dan Ticktum on the MABA finalists' list. McLaren will conduct the fitness and simulator elements of the competition, prior to a two-day test on Silverstone's Grand Prix circuit in the coming weeks.
The winner, who will be announced at the annual Autosport Awards on 3 December 2017, will be offered a McLaren simulator role for 2018 and receive a test in a Formula 1 car, full British Racing Drivers' Club membership and an Arai crash helmet.
Previous Award winners include 2009 F1™ world champion Jenson Button, 13-time Grand Prix winner David Coulthard, three-time Indy 500 victor Dario Franchitti and 2014 World Endurance champion Anthony Davidson.
Harrison Scott #10 RP Motorsport
"What an unbelievable weekend, doing the clean sweep once again. A combination of the new tarmac and Pirelli rubber laid down by the F2 and GP3 cars made it tricky to find a good balance with the car. However, we worked hard all weekend collectively as a team and the car just got better and better.
After securing both poles – the first being made a little more challenging after a red flag halted my first push lap on the new tyres – I managed to go back out and set a lap that was good enough for pole. For the race today I managed to get off the line well and from then I pushed the whole way and the car was brilliant.
I can now turn my full attention to the McLaren Autosport BRDC Award over the coming weeks after securing my goal of becoming Euroformula Open Champion. I'm really looking forward to the tests and challenges that await. I hope that I can put in a strong showing in all areas and to ultimately win this prestigious award would be a dream come true!"
The Circuit de Barcelona will play host to the finale of the 2017 Euroformula Open, supporting the International GT Open event, on 28-29 October.
Please follow and like us: